Health First Family Medicine

is your East Valley source for affordable and friendly medical care.
Our Mission:
To provide patients with convenient and affordable care with the goal of improving the health of our community. Every day of the week, we are here to help you with General Medical Care, X-Rays, Labs, Vaccines, Physicals, Occupational Medicine, and Flu Shots. We provide urgent care services to residents of Gilbert, Mesa, Chandler, Queencreek and surrounding communities.
Annual and Non-Acute
Yearly physicals
Pap smears
Immunizations/Vaccines
Routine follow-up appointments
Medication refills
Pre employment physicals
Sport/School physicals
Ancillary Tests and Services
Colds, flu and other illnesses
Rashes, skin (dermatological) problems
Asthma
Respiratory complications
High blood pressure
Diabetes
Urinary pain
Selected chest pain and abdominal pain
Allergic reactions
Dental pain and complications
Gynecological complaints
Acute Injuries
Eye and ear foreign body removal
Fractures
Animal and insect bites
Burns
Laceration repair
Abscess incision and drainage
Ingrown nail removal
Acute Illnesses
DOT physicals
Pre employment physicals
Sport/School physicals
Aesthetic & Weight Loss
Botox/Dysport
Fillers: Juvederm, Restylane, Perlane
Latisse
Complete hCG protocol
B complex and B12 injections
Community benefit program
Lipotropic (fat burning) injections
Excellent, qualified and compassionate providers and staff.
Appointment is needed. Please call.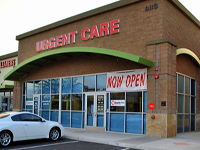 Open 5 days a week
Monday-Friday
8:00am-5:00pm
Phone: 480-507-0700
Fax: 480-507-7477
Location:
888 S. Greenfield Rd Suite 101
Gilbert, AZ 85296
See Map
South West Corner of Greenfield and Warner Road.

Accepted Insurance Plans
We Are Located
Gilbert, Az
Greenfield and Warner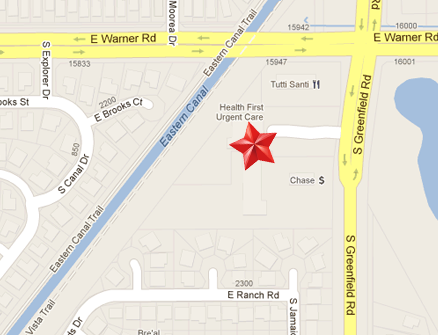 888 S. Greenfield Rd Suite 101
Gilbert, AZ 85296
Southwest corner of Greenfield and Warner Rd